Get inspired by the
breath of fire, the

HAKA

    
and let yourself be carried away to another world
of
power rituals that have existed for centuries and
bring us back to our origins, to energy, to healing power, and to your authentic humanity.
Experience freedom in the vessel of your body, mind, and soul.
Connect with the strength of your ancestors, transform yourself to reach your full potential,
move forward,
and become the lighthouse, the rock in the storm, for those around you.
Move forward, follow your destiny, your life's mission,
and live your life to the fullest.
Join us in dancing with the strength and hope of a meaningful transformation, through the disruptions and upheavals of our time.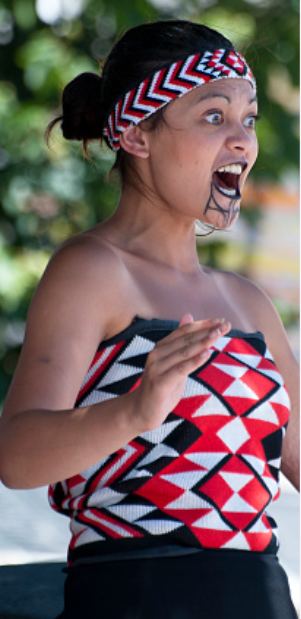 What is  HAKA ?
Haka is a traditional Maori art form that must be protected and preserved.
It is a gift from the Maori people to our country and its people, TANGATA WHENUA – People of this land.
The Perouperou haka is perhaps the most well-known here, made famous by the New Zealand All Black rugby team. But the women also use the haka to express their power and ability to defend themselves.
It is a universal concept: a shout, a dance, with a motivating power that connects us, or reconnects us, with an unusual intensity, to our own being. 
It expresses our very personal connection with: our environment, our region, our tribe, our culture, our ancestors.
Whether performed softly or forcefully, its power remains the same… … powerful!!!
During this workshop, we will perform a HAKA TAPARAHI which takes place outside the traditionally protected customs and protocols.
TOROA says: "I see no borders or countries, I just see different tribes in the world. Each tribe should be reconnected with this 'indigenous' force."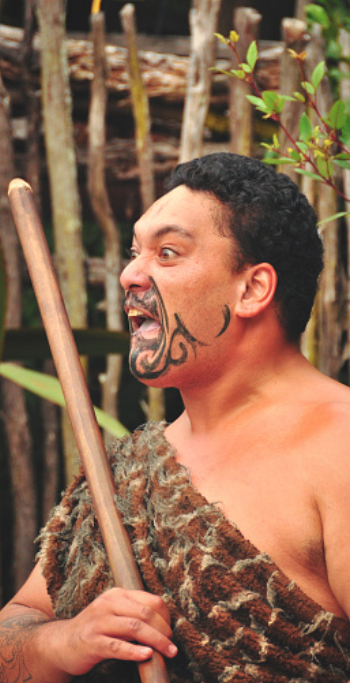 The HAKA offered in this workshop is a HAKA TAPARAHI, which is less known than the HAKA Perouperou.
The HAKA TAPARAHI is a symbolic, ceremonial, and motivational haka.
TOROA says : "In the balanced sway of 'feminine feeling' and 'masculine doing (taking action, accomplishing)', there is great personal potential hidden in the haka for each participant. I can show you the universal principle of haka, but you have to fill it with your own culture, ancestors, and life force."
The Maori customs are carefully observed by TOROA APERAHAMA.
In today's Maori customs, the HAKA is a unique and powerful expression of respect, identity, healing, and cultural connection.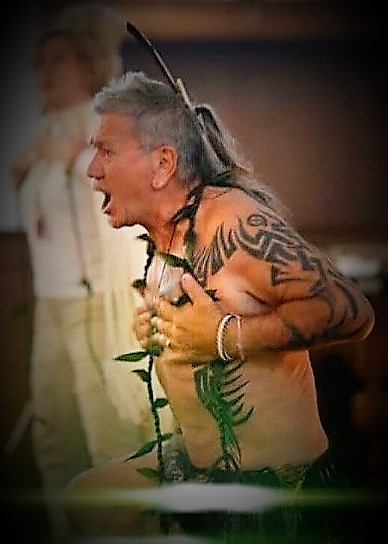 Mr. Aperahama is a Maori elder who grew up in ancient tribal structures and was trained in ancestral knowledge as a wisdom keeper.
He is an honorary member of the Vanuatu Council of Polynesian Chiefs, a TEDtalk speaker, a traditional Maori carver (Kaiwhakaiiro), a traditional Maori storyteller (Manu Korero) and a HAKA teacher (Kai Haka).
Raised and educated according to traditional customs and values, he has received, as an elected shadowman and record keeper, ancestral healing knowledge and holds the family and ancestral memory of his people.
He is a passionate supporter of the youth environmental movement.
With dedication he cares for even more young people, sometimes confused and lost, in their life journey.
The course will take place over 2 days, Saturday and Sunday with a first introductional teaching on Friday evening.
♦ friday evening  from 19h to 21h 
(

Meet&Greet 

with

 

Toroa

)

On Friday evening, Toroa talks to us about his culture and how the haka is integrated into it. He explains the meaning and various forms of HAKA, its healing effects and reconnection with ourselves, our origins, and our ancestors.

HAKA strengthens us in our own identity and helps us to express our truth and live without fear and with honesty.

Expect an exceptional encounter with the extraordinary personality of a Maori elder and astonishing explanations of how our different cultures are linked together.
♦ saturday from 10h to 18h + sunday from 10h to 17h (

HAKA workshop

)
It will take place in a typical MAORIE atmosphere: with an open heart.
In a protected setting in order to allow the participants to let go.
No previous knowledge is necessary, only the will to search for personal development as well as the desire to support the group with its benevolent inner strength.
Clothing should be comfortable to allow for ease of practice
The work is preferably done barefoot in order to keep contact with the earth. But nothing prevents you from bringing socks or slippers that are only used indoors.
The conditions of this workshop even allow for an overnight stay in the traditional MARAE style.   We will discuss and decide on the spot.
Site : 
56800 Campénéac
Participation :
Participation                               270€    contact me if this is really an obstacle
Full board :                                     50€
Accommodation on site              30€ à 50€   (15€ à 25€ per night)     optional
If you have any questions, do not hesitate to contact me.
If you wish to register directly, click here.
You will receive all the practical information.
  Together         United          Forward